Facebook Ads are still viable in 2022
Much like anything on the internet, ads rely on an algorithm to learn and adjust frequency, audience, spending habits, viability, etc., and those things take time.
I believe that ads work if you have two things: capital and patience.
That belief is based on the assumption that you also have a plan.
Obviously, you need some money to put behind the ads. That's kind of the point. You pay to play.
However, the other part of that equation is patience. Ads don't always work right out of the box (no matter what that social media ads guru tells you).
Much like anything on the internet, ads rely on an algorithm to learn and adjust frequency, audience, spending habits, viability, etc., and those things take time.
Ok, So what's the plan?
My fellow mixer, you may or may not be aware that in addition to my marketing prowess, I am also a photographer. You may or may not also be aware that I am moving to Denver, Colorado from Baton Rouge, Louisiana.
I am relocating my life (and my business) to a place where I don't know anyone or have any clients. So what have I decided to do?
Create an ad strategy to help drum up some business.

Facebook Ad Strategy
My ad strategy will be 3 fold: Brand Awareness (with offer), Traffic (with offer), and Lead Generation (WITH OFFER)!
We are currently in phase 1: Brand Awareness (with offer)
For this phase, we need to introduce my business to my target audience and potential clients.
I'm refocusing my business to focus primarily on weddings and couples looking to get engaged, take engagement photos, or get married in the Denver, Colorado area.
The first thing I need to do is actually make sure my website communicates that information to potential clients.
Because if they see my ad and decide to look me up, my information needs to match their expectation.
The second thing I need to do is find my target audience on the Facebook Ads Manager.
Luckily Facebook allows you to target people based on location, age, gender, and a few other special things like relationship status and life events.
I've decided to target men and women located within a 25-mile radius of Denver, Colorado aged 22 - 60 whose relationship status is in a relationship or engaged, and if they are engaged, it has been less than 6 months.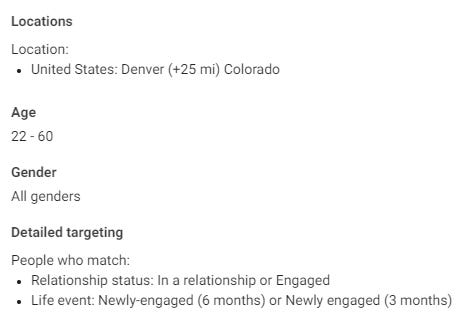 The third thing is coming up with the offer.
I'm completely new to Denver. I've never been there. I've done a bit of research, but there's no way for me to actually navigate their photography scene and charge proper prices until I get there.
So, I've decided to offer 10% off any service to anyone who joins my email list.
This is a soft offer. The client will receive a discount for giving me their email address. If they are interested in a session, they will gladly provide their email for that discount.
Number 4 on this list is ad copy.
Ad copy can be tricky. The main objectives are to grab attention, provide value, and make an offer.
Because this ad is mostly about brand awareness, my ad copy is wholly focused on evoking a relatable and emotional response from potential clients with a soft ask at the end.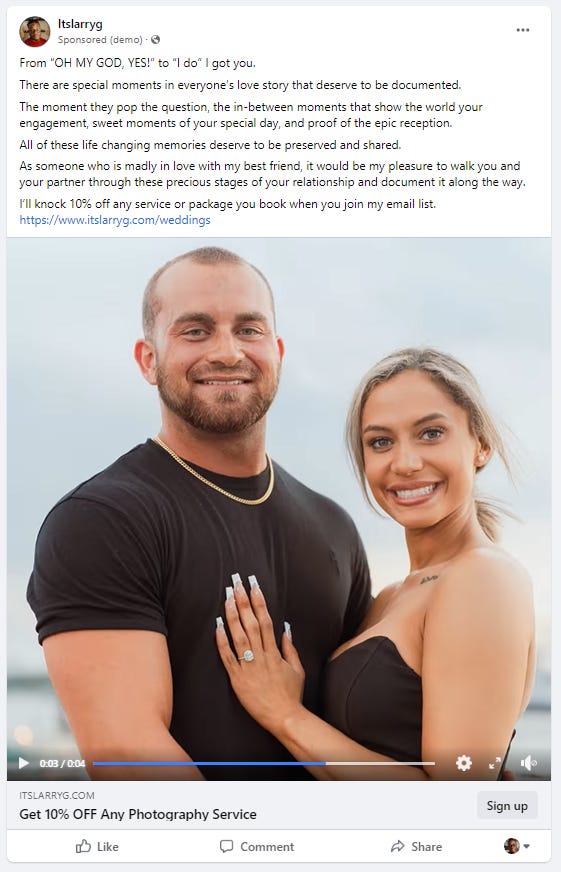 The final stage of this process is the creative or media.
I'm a photographer so showing off some photos was a no-brainer. I want to show my potential clients what level of photography they can expect when they book me.
I decided to use facebook's built-in slideshow feature to create a video slideshow out of 4 images from a recent proposal session.
Honorable mention step - Set budget
As I mentioned in the beginning, capital is necessary to run ads. For this ad specifically, I have started with the smallest budget allowed, $5 per day.
After 3-5 days, I will review the performance, reassess the budget, and make adjustments accordingly.
Now We wait.

As always, I'd love to discuss this with anyone willing to speak on marketing and best practices (especially over a drink).